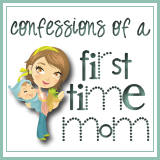 I decided to write this Winner's Review for the Softbums Perfect Fit diaper that I won from
Confessions of a First Time Mom
back in January because I absolutely fell in love with this diaper! I chose the Red and eagerly waited for the Fluff mail to come.
I had read a few reviews on the
SoftBums
diaper and even
watched the video
s on their website when I first began looking for cloth diapers. I loved the concept but, like Ashley at Confessions of a First Time Mom, I couldn't see how this would keep my daughter dry during naps! I soon to discover that I too was wrong.
When I first received the diaper package in the mail, I almost called the company to complain. I jumped on the website to find contact info as I thought the diaper was flawed. At the front of the diaper there was a small slit section that was not sewn together but, it had finished seams. At second look, this seemed like an
odd
flaw so, I decided to read the inserts that came with the diaper. Soon I realized this was not a flaw. Instead, it is where the adjustable elastic is hidden. How genius! The ends of the adjustable leg elastics have little tiny toggles on them to help keep the elastic at the correct size. Again I'll say,
GENIUS
! I instantly fell in love!
SoftBums are a bit more expensive than other cloth diapers at $25.95 for a
Solo Pack
but, you really only need a few covers. I could probably get by for 2 days with 2-3 covers. The better option would be to purchase the
SoftBums Basic Pack
which includes 1 Cover and 3 Dry Touch Snap-in Softbums Inserts, plus a Doubler for $36.95 that's only $7.00 more than the Solo Pack for triple the amount of liners! Also, the
snap-in inserts
are pretty reasonably at $4.99 each. Why should you
purchase
these wonderful diapers at the SoftBums' Website?...